In this article, we'll look at how you should introduce yourself in a job interview so that your interview gets off to the best start possible.
At the end of this article, you'll have tips to make a great first impression, a formula for answering the question "tell me about yourself," and two example answers you can play with to craft your response to this question.
"Tell me about yourself?" is one of the questions that gets asked in almost every job interview, whether your meeting over the telephone, via a video call, or face to face, so it makes sense to prepare for it, especially as attending an interview can be a daunting experience.
First Impressions Matter
Research from ThriveMap says that 63% of hiring managers decide if they want to hire you within the first ten minutes, so the importance of a good first impression can't be overstated.
To do this, before the interview, make sure you dress appropriately. Doing so will show the interviewer that you are genuinely interested in the position, demonstrate an understanding of corporate culture, and present you professionally.
If you're unsure what to wear, err on the side of more formal to be on the safe side.
Once you are at the interview, little things can make a big difference in whether you get off on the right footing.
Here are four tips to make a great first impression before you sit down. You should:
Offer to shake the interviewer's hand.
Smile.
Introduce yourself.
Tell the interviewer that it's a pleasure to meet them.
So, you might say something like, "Hello. I'm Mike. It's a pleasure to meet you."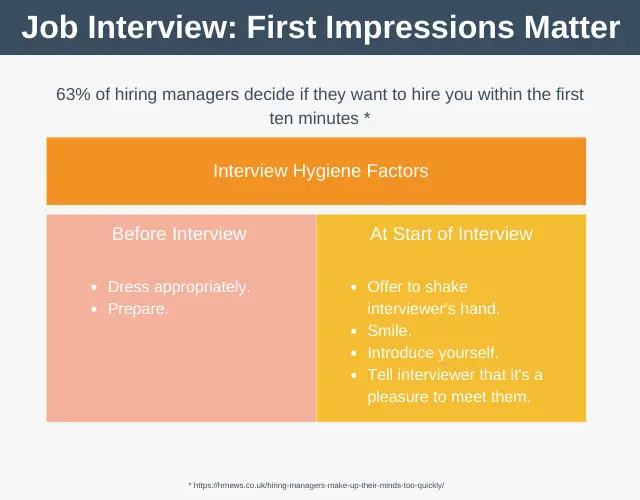 Why do Interviewers Ask "Tell Me About Yourself"
So that you can provide the best answer to "tell me about yourself," it's good to understand what interviewers are looking for when they ask you this question. There are many things they are trying to achieve when they ask, "tell me about yourself," including: 
They recognize you might be nervous, and the question gives you (and them) a way to ease into the interview.
It helps the interviewer get to know you.
What you say will likely provide the interviewer with questions to ask you about next.
It offers an opportunity for you to communicate that you have the skills for the job.
Common Variations of "Tell Me About Yourself"
To avoid being caught off guard, know that your interviewer may not use the exact phrase, "tell me about yourself," but instead may use something along the lines of the following:
Tell me about your career to date.
Could you give me some background about yourself?
Please walk me through your resume.
I've looked at your resume, but it would be great if you could tell me about yourself in your own words.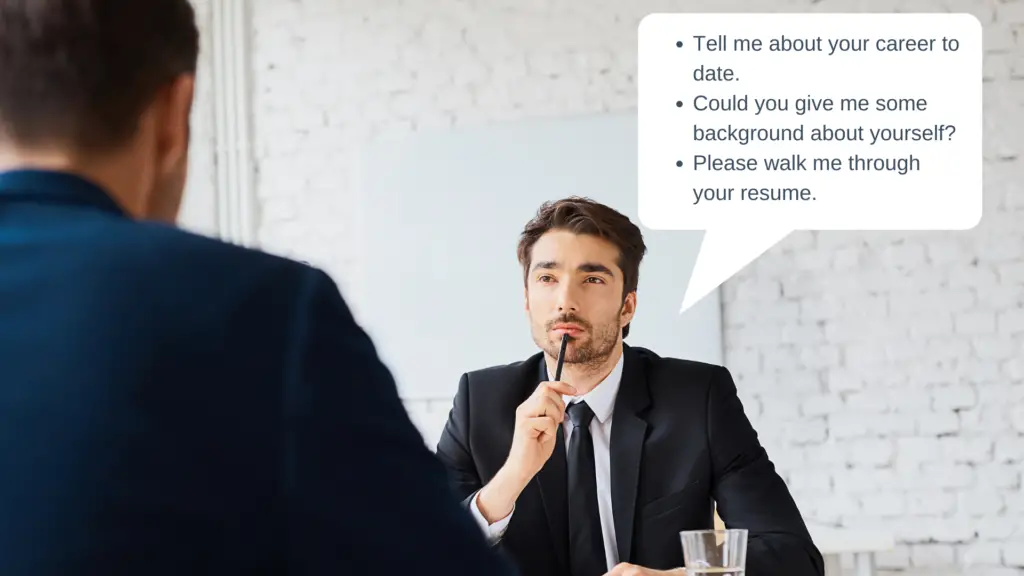 The "Tell Me About Yourself" Formula
Below is a simple four-step formula to answer this question so that your answer is concise, tells your story, and highlights your biggest achievements to date.
Many interview experts will tell you that you should walk through your resume to answer this question. But we don't recommend that as it's of little value to anyone to simply rehash the contents of your resume, especially as your interviewer probably has it sitting in front of them. 
Instead, the formula below helps you to focus on what's great about you, your career wins to date, and why they should hire you. Think of it as your elevator pitch that shows you've got the right skills, experience, and attitude to be a great match for this job.
The four steps are:
State who you are professionally.
Highlight your key achievements.
Optionally, add a personal passion.
Explain why you're here.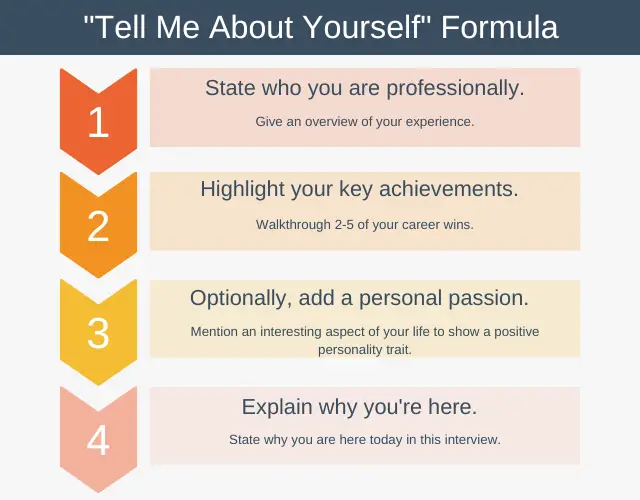 Let's take a look at each of the four steps in turn.
1. State Who You Are Professionally
The first step of the formula is to provide a brief overview of who you are professionally. Here you simply want to describe your experience in a broad way.
Good Example: Do say…
I'm an IT professional with 12 years of experience across all aspects of coding, backed up by a formal education in computer science.
Bad Example: Don't say…
Well, I first got into computers when I was eight years old. Of course, I was primarily interested in playing Super Mario back in those days. Actually, I have a funny story about playing Super Mario…
2. Highlight Your Key Achievements
In step two, you state the outcomes you've achieved that you are most proud of in your career. Start by focusing on your current or most recent job, and then touch upon just a few key achievements from previous roles.
You don't want to send your interviewer to sleep, so state no more than two to five key achievements.
This is your chance to show your experience and passion and back up your claims with evidence.
Good Example: Do say…
In my last role as a programmer for Globocorp, I spotted a big inefficiency in how the code worked. I'm passionate about things working in the most efficient way, and so I used my initiative to get the support of management to get it resolved. The end result was that the company saved a lot of money, and I got promoted.
Bad Example: Don't say…"
I'm a programmer, so I don't have much authority or autonomy. I work on the billing system, doing what my internal customer asks me.
3. Add a personal passion (Optional)
If you have an interesting aspect of your life that isn't directly related to the role but which demonstrates a personality trait that is related to the role, then now is the time to mention it. 
For example, if you're an amateur athlete, you might highlight that your commitment to training demonstrates your discipline. If you are a member of an amateur dramatics club, you might highlight that it shows that you're a people person and love being around people.
Good Example: Do say…
Something that you might not know about me but might find interesting is that I've been volunteering at a homeless center for ten years. I do it because I want to give back to the community.
Bad Example: Don't say…
I'm a member of an amateur dramatics club. I joined because I don't have many friends.
4. Explain Why You Are Here
Finally, it's time to explain why you are here today in this interview. This is your opportunity to say what excites you about the position you're applying for.
Good Example: Do say…
Even though I love what I do currently, I'm here today because I'm looking to challenge myself even further. When I saw your position advertised, I genuinely thought it looked like a very exciting opportunity.
Bad Example: Don't say…
I don't get along with my current boss, so I'm looking around to see what else is available.
Points to Remember
Every job is different, and so is what each employer is looking for, so it's important to revisit this formula for every job interview you attend so you can tailor it to the needs of the job in question.
Be positive in how you answer each step of the formula. Nobody wants to hear that you don't see eye to eye with your boss, but they do want to hear that you're excited to take your career to the next level.
Finally, remember to be authentic. Don't just say what you think the interviewer wants to hear. You have to be yourself. You might have to temper yourself, but it's very important to be yourself – it's your best chance of finding not just a job but the right job for you.
Examples
Here are two examples of how to answer the "tell me about yourself" question you can use and adapt to help you craft your own answer.
"Tell Me About Yourself" Example 1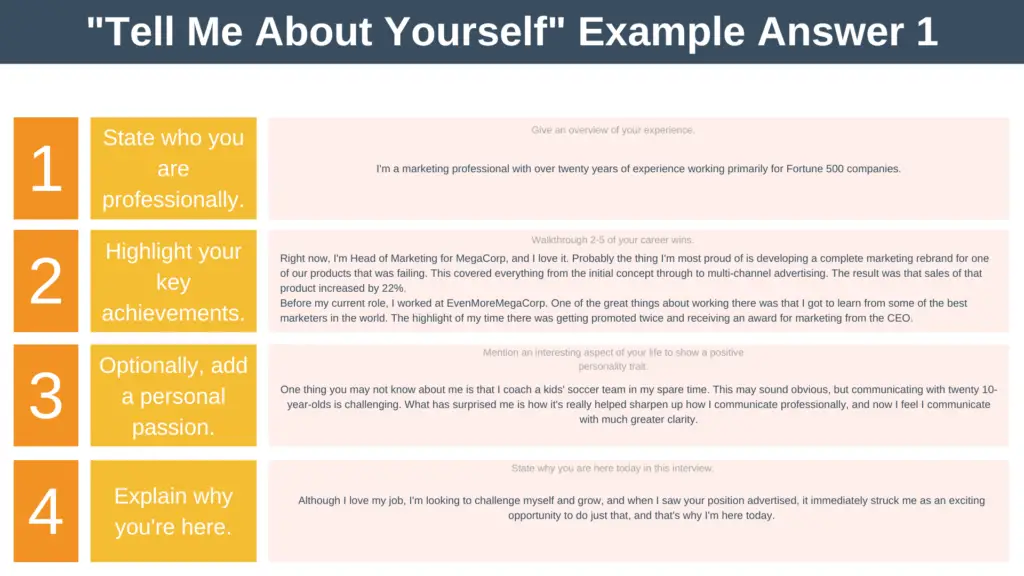 I'm a marketing professional with over twenty years of experience working primarily for Fortune 500 companies.
Right now, I'm Head of Marketing for MegaCorp, and I love it. Probably the thing I'm most proud of is developing a complete marketing rebrand for one of our products that was failing. This covered everything from the initial concept through to multi-channel advertising. The result was that sales of that product increased by 22%.
Before my current role, I worked at EvenMoreMegaCorp. One of the great things about working there was that I got to learn from some of the best marketers in the world. The highlight of my time there was getting promoted twice and receiving an award for marketing from the CEO.
One thing you may not know about me is that I coach a kids' soccer team in my spare time. This may sound obvious, but communicating with twenty 10-year-olds is challenging. What has surprised me is how it's really helped sharpen up how I communicate professionally, and now I feel I communicate with much greater clarity.
Although I love my job, I'm looking to challenge myself and grow, and when I saw your position advertised, it immediately struck me as an exciting opportunity to do just that, and that's why I'm here today.
"Tell Me About Yourself" Example 2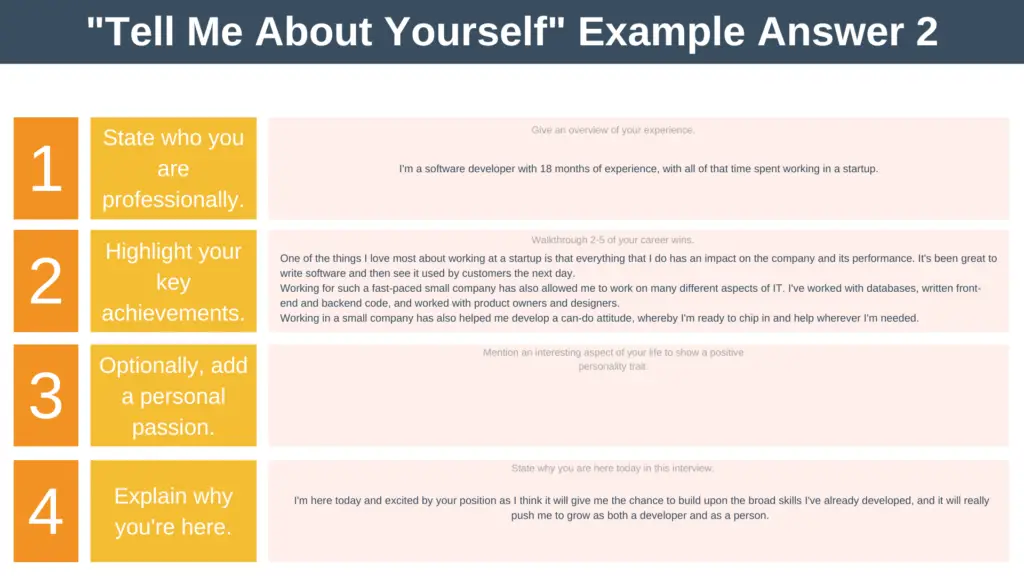 I'm a software developer with 18 months of experience, with all of that time spent working in a startup.
One of the things I love most about working at a startup is that everything that I do has an impact on the company and its performance. It's been great to write software and then see it used by customers the next day. 
Working for such a fast-paced small company has also allowed me to work on many different aspects of IT. I've worked with databases, written front-end and backend code, and worked with product owners and designers.
Working in a small company has also helped me develop a can-do attitude, whereby I'm ready to chip in and help wherever I'm needed.
I'm here today and excited by your position as I think it will give me the chance to build upon the broad skills I've already developed, and it will really push me to grow as both a developer and as a person. 
Template
If you'd like to use our template to help you answer the question "tell me about yourself," you can download it here.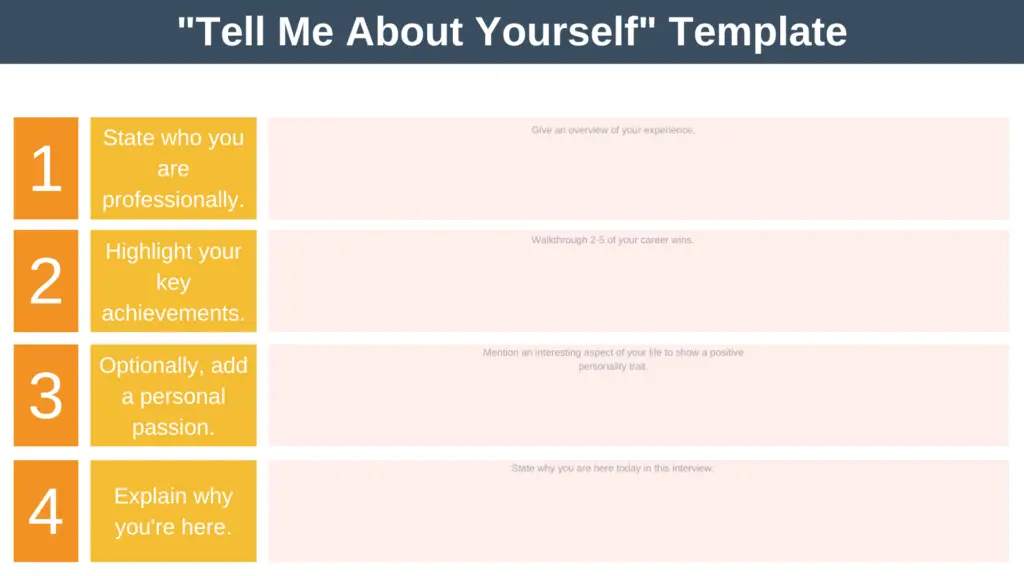 Summary
"Tell me about yourself" is a question that is asked in one form or another in almost every job interview. 
Because it's asked so often, knowing how to answer it is a key career skill, and it's a good idea to be prepared for it, especially as hiring managers make up their minds about a candidate in the first few minutes of an interview.
With our four-step formula, you'll be able to answer the "tell me about yourself" question confidently and in a way that highlights what's great about you, your career wins to date, and why they should hire you.