The Three Levels of Leadership Model is for practicing leaders who want to grow and be better at what they do. It applies to any leader in a group or organization, whether you are an Inc 500 Company CEO or a weekend sports coach.
The Three Levels of Leadership Model, also known as the 3 P's Model of Leadership, is a tool for developing the skills to lead yourself and your role in leading others.
Background
James Scouller first published his book in 2011 as a new model for effective leadership. The Three Levels of Leadership: How to Develop Your Leadership Presence, Knowhow, and Skill, is a practical manual designed to help you develop a clear understanding of what leadership is.
It aims to give you a unique understanding of your role as a leader and the key behaviors that you need to develop.
Along your leadership journey, you may have adopted some elements of the many leadership models. Some models suit various leadership characteristics or situations. Like all models, they are just that, a model, and when it comes to applying a model, they have limitations.
The Three Levels of Leadership Model seeks to combine the strengths of previous leadership models while addressing their limitations.
The Three Levels Leadership Model
The Three Levels Leadership Model is a tool that helps you to improve your know-how, presence, and skill and helps you understand what to do as a leader.
The model provides some of the tools you need to develop yourself as an effective leader.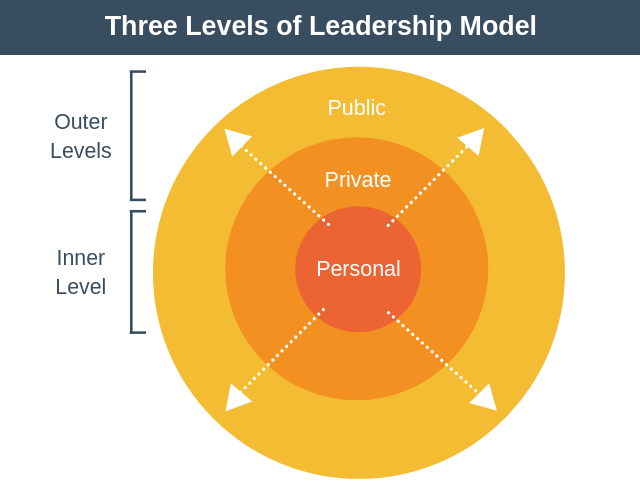 The Three Levels of Leadership model has three levels: Public, Private, and Personal Leadership. The outer two circles represent the Public and Private Leadership Levels. They focus on the range of behavioral elements you need to influence a single person (Private Leadership) or two or more people (Public Leadership).
The central circle represents the Personal Leadership. This level concerns your presence. It also includes your know-how, your skills, your beliefs, your emotions, and your habits. Personal Leadership drives the effectiveness of Private and Public leadership roles.
According to the model, you need to work on all three levels in parallel to be an effective leader.
For example, imagine you have been asked to lead a team to establish a new warehouse. You've never been involved in a construction project before. Consequently, if you don't develop the personal know-how, there will be an upper limit to your ability in performing as a leader on the project.
1. Public Leadership
Public Leadership is about leading a team and driving collective action, so you get results. By paying attention to your Personal Leadership skills, you can grow your Public Leadership abilities.
The Four Dimensions of Leadership
As the leader, the Public and Private Leadership Levels are what you work on to attend to the four dimensions of leadership.
Leadership is a process where you address these four dimensions;
1. Maintaining a shared motivating purpose
2. Driving action towards progress & results
3. Upholding group unity
4. Paying attention to individuals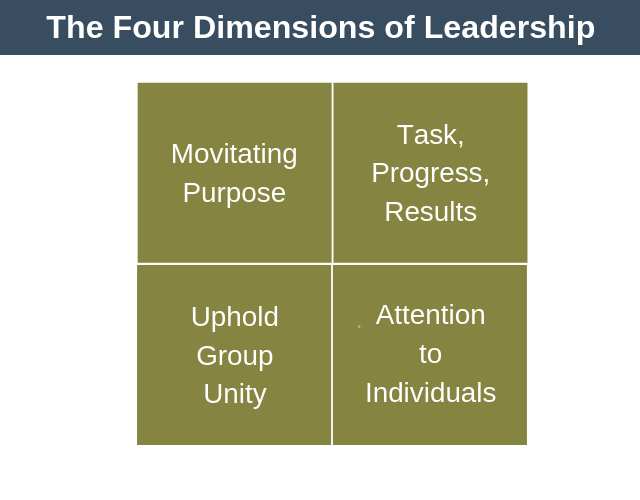 The four squares model can be seen as an extension of John Adair's Action Centred Leadership and the three circles concept.
2. Private Leadership
Your team or group is made up of individuals. They are all people who have unique traits, behaviors, skills, and emotions.
The skills for a one-on-one chat are unique and are very different from the skills for leading a group.
Imagine one team member is underperforming. You've got to have one of 'those' chats. In your mind, you've already judged your colleague. At times it can be disarming for you too. You confront your colleague only to find out they are dealing with a difficult personal situation, and this is affecting their ability to perform.
The situation requires specific interpersonal communication.
3. Personal Leadership
Let's say you were watching football last night, and your team lost. You think it would be easy to put it at the back of your mind, but losing irritates and, you are in a less than stellar mood. During a meeting, you find that you are losing control and biting back at a colleague.
When you practice Personal Leadership, you have an increased awareness of how you are using your private and public leadership skills and so perform your role better. With self-reflection, you can identify your areas of weakness, and work on those over time.
There are three key elements to focus your attention on when developing yourself.
Know-how & skill.
Attitude towards others.
Self-mastery.
Self-mastery helps you develop your leadership presence and abilities. By learning to adjust to a range of different leadership situations, you can build trusting relationships.
What is Leadership Presence?
Leadership presence is one of the main features of the Three Levels Model of Leadership, so what exactly is it?
Leadership Presence is the state of being present with a person, whereby you are showing up as a complete version of yourself.
You engage with one particular colleague and have a conversation about your 360-degree feedback assessment. You are giving your colleague your undivided attention, speaking honestly and respectfully and not ducking any issues from the feedback. You are uninhibited and allow your personality to flow, without getting caught by any worries and anxieties about the situation.
Your colleagues can feel your authenticity, and you have a radiating effect on them. When practicing leadership presence, you are in the moment, feeling confident and leading well.
Three Levels of Leadership Example
As a real leader, you to have to adjust to outside influences. Using your Personal Leadership skills, you can build self-awareness and the skills to adapt your behavior to certain situations.
For example, you have recently completed a 360-degree assessment with each of your team members. You discover from the feedback that you tend to put off making decisions with one particular stakeholder. The team suggests you are not listening adequately during stakeholder meetings.
You decide to attend a course and improve your listening skills. By choosing this action, you are applying the Personal Level of the model. You are developing new skills that will benefit you.
You can then apply your new skills in the Private and Public levels and improve communication with the team and the stakeholder. The group sees improvement in your decision making and as a result, is performing better.
Your journey towards self-mastery requires you to embark on a lifelong journey of Personal Growth. By holding this as central to developing your leadership skills, you can become a more impactful leader.
Advantages and Disadvantages
There are several advantages and disadvantages to the Three Levels of Leadership model.
Advantages
The Model combines the strengths (and addresses weaknesses) of other leadership theories.
A practical approach to effective leadership development centered around servant leadership and being your authentic self.
Centers the leader's effectiveness on developing yourself by addressing limiting beliefs, emotions, and unconscious habits and self-mastery.
Disadvantages
The journey of self-development can be challenging for some people.
It is difficult to see your weaknesses without the reflection of others.
There are no supporting programs for leadership development using the model, so implementing the model needs to be self-directed.
As a relatively new model, the Three Levels of Leadership model needs to be reviewed in the field to understand it's actual effectiveness.
Summary
The Three Levels of Leadership Model provides you with a tool to develop your personal leadership skills.
The skills of know-how, attitude to others, and self-mastery will help you become a more effective leader.
There are many leadership models, so use the best model to suit your leadership situation.