Your team is the most important lever you have at your disposal to deliver results. Great teams can achieve great results despite organizational complexity and inertia. Conversely, a bad team will frequently fail to deliver despite having a fair wind at their back.
Given your team is so important, how can you get the most out of them? Below you'll find a few simple tips to help you. Note that it is easier to keep a team on track than it is to turnaround a team, and that these tips apply to the former case.
1. Recalibrate the Course
Consider sending a weekly email to your entire team. This email need not take long to complete as it can be created from a template. This email lets everyone know their priorities and targets for the week and acknowledging any successes from last week.
This combination of highlighting both the past and present allows people to focus on the present and also reflect on past achievement. It makes more sense to send this email either at the start or end of the week rather than in the middle.
2. Encourage Openness and Avoid Blame
Rumors (not the Fleetwood Mac kind) can quickly damage your team morale. To stop gossip, encourage openness and the ability for anyone to raise anything that is concerning them either in your team meetings or on a one-to-one basis.
Openness can't happen unless blame is avoided. When something goes wrong don't apportion blame and instead focus on how to resolve the issue. It is only when a team member makes consistent errors that you may need to…
3. Look at Under-performance
If a team member is consistently underperforming then instigate the HR process that will ultimately lead to them being:
retrained: they don't have the skills
re-motivated: they're head isn't where it should be
removed: the last resort when none of the above work!
4. Promote Responsibility
With an open and supportive culture in place it will be possible to encourage individuals within the team to take more and more responsibility. One simple mechanism which allows you to do this in a gradual way is the delegation ladder (which you can also think of as a responsibility ladder). This simple tool allows your trust to be built gradually alongside the team member's responsibilities.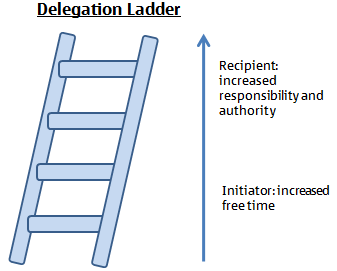 Summary
These four tactics to maintain a high functioning team may appear simple but they require both effort and consistency of effort on your part. If any one part is missing then the value of the other three will be reduced.
Finally, another part I considered including is to remember to have fun. It didn't make sense to me to include this tip as part of the four core tactics above which is why I'm mentioning it here. This can be done not only every day but also by organizing the occasional team social which will encourage the team to bond and build stronger relationships. Good points to organize these socials are after a big success or after new team members join.