Customer Relationship Management (CRM) is used within most organizations to manage existing customers and new sales prospects. Its goal is to locate and win new clients, enlarge the relationship with existing customers, and reduce sales and marketing spend.
As part of CRM, Curry's Pyramid is a tool which focuses on managing your existing customers. It works on the premise that if you can identify your most valuable customers and then increase their value to you, you will generate significantly more revenue than with a blanket approach across all of your customers.
Curry's Pyramid works by dividing your customers by revenue generation (although you're free to pick an alternative classification). Customers within each division (or segment) are then marketed to and treated differently, that is, marketing and sales resource is applied differently to each segment. Curry's Pyramid is shown below: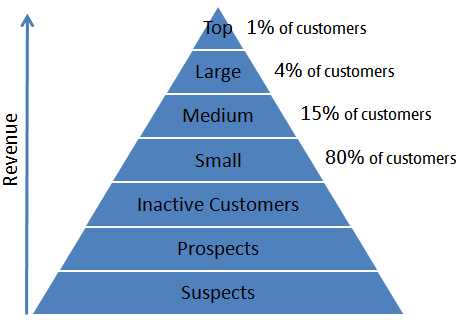 The keen eyed reader will have already spotted that the pyramid is based upon the pareto principle (also known as the 80-20 rule), and in Curry's Pyramid that 80% of the revenue comes from 20% of the customers. Some customers in the bottom 80% of customer base can even lose you money to service. By analysing customers in this way we help build and maintain a customer driven culture within the organization.
The first step in putting Curry's Pryamid into practice is obviously to determine the different segments we're going to have, and then finding which customers belong to which segments. When then create different packages/incentive programs for each of the different segments. Let's look at an example:
Suppose we have an airline company called AtoB Airlines which decides to segment it's customers according to how long they have been customers, and how much revenue they generate each month. We could plot this in the following matrix:

As you can see, in the grid above we're plotting monthly spend against length of time as a customer. Based on Curry's Pyramid, AtoB decide to segment their customers so that the top 1% are considered gold, the next 4% are silver, the next 15% are bronze, and the remaining 80% are white. Our matrix might now look like this:

Now that the customers are classified into gold, silver, and bronze, AtoB Airlines needs to work out what packages to offer each segment to increase it's value to the airline. What packages the airline offers will of course depend on what the airline is aiming to achieve, but let's take a look at a few obvious example packages:
For gold customers we might want to ensure we don't lose them as customers, so we might offer free flights anywhere in the world for themselves and their immediate family once per year, when they keep gold status for an entire year.
If the research revealed that gold customers are not so price conscious then the above offer might not be appropriate, our big spenders might not be interested in free economy flights. Instead gold customers may continue to be loyal if AtoB offer great service. In this case it may be more appropriate for the airline to offer gold members free chauffeur driven transportation to and from the airport, taking some of the stress out of travel for the customer.
For silver members we might want to encourage them to become gold members so we can realise more revenue from them, for example, we might offer a one month taster of some of the benefits they could be getting from gold membership, such as chauffeur driven transport to and from the airport.
After you have created your packages you will need to track the results to see what is working and what isn't, adapting as necessary.
Background
More information on this Curry's Pyramid can be found in the book, The Customer Marketing Method: How to Implement and Profit from Customer Relationship Management, by Jay and Adam Curry.
Buy from Amazon
Summary
In summary, Curry's Pyramid helps you to categorize your existing customers based on the pareto principle. From this it then enables you to develop incentive packages to maintain and grow your most loyal customers.